GENUINE TOYOTA SCHEDULED MAINTENANCE
Basic Intermediate Service
Performed every 15,000 miles or 12 months, whichever comes first.
Change engine oil and filter
Top off all fluids
Lubricate chassis
Rotate tires (excludes MR2)
Clean and adjust brakes
Adjust parking brake
Adjust ignition system (when applicable)
Inspect condition of battery
Inspect steering and suspension
Inspect emission control
Perform multi-point inspection
Install fuel system treatment
Install premium engine treatment
Install windshield washer solvent
Install battery anti-corrosive pads
Road test for quality control
4-WD transfer case and front differential fluid change additional.
Vehicle requiring type "T" trans fluid additional.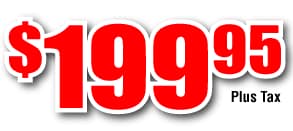 Add $20 for 0/20 synthetic oil